It's a year of "firsts" for the 95th Academy Awards, which take place Sunday, March 12 at 8 p.m. ET/5 p.m. PT on ABC (tune in earlier for all the glitz and glamor on the red carpet). But first, let's catch up on a few of the major storylines before Hollywood's biggest night. Plus, we share our predictions so you can vote for your own winners, and don't forget to check out how you can stream the 2023 Oscars for free so you don't miss a thing.
For the first time in decades, this year's Best Actor category included all first-time nominees, including Brendan Fraser (The Whale), Colin Farrell (The Banshees of Inisherin), and Bill Nighy (Living), alongside younger rising stars such as Austin Butler (Elvis) and Paul Mescal (Aftersun).
In the Best Actress category, Michelle Yeoh and Jamie Lee Curtis from Everything Everywhere All at Once also received their first nominations. And you can't forget about the first-time supporting role nominations for Ke Huy Quan, Kerry Condon, and Hong Chau, just to name a few.
After the public's waning interest in award shows over the past few years, people are finally excited about the Oscars again. In part due to the Academy's emphasis on nominating films that average moviegoers have actually seen (shocker!), like box office blockbusters Top Gun: Maverick and Avatar: The Way of Water. Don't get me wrong, movies nominated over the past couple of years—like Mank, The Father, and Drive My Car—were great, but they aren't the type of movies that are going to generate buzz online. But another factor that's responsible for the hype surrounding the 2023 award season are the cultural conversations and inspiring storylines tied to this year's fan-favorite actors.
The two biggest storylines of the year are the return of Brendan "Don't Call It a Comeback" Fraser after his long hiatus and Ke Huy Quan's motivational story of patience and persistence while pursuing his lifelong dream of being an actor. There's certainly some other drama surrounding Andrea Riseborough's controversial nomination for Best Actress for her role in To Leslie, but that's a deeply layered and complicated story for a different day.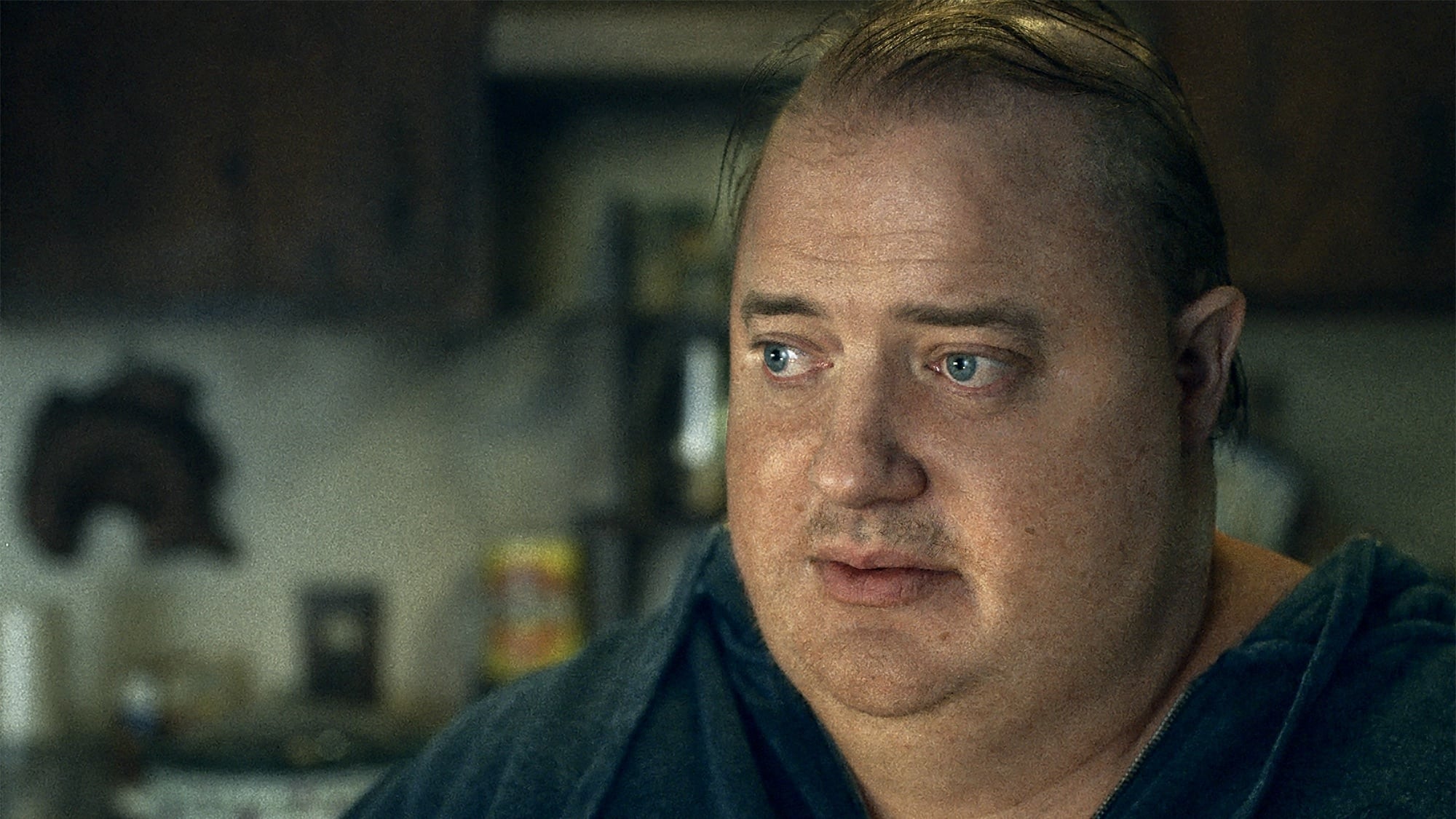 The Comeback of Brendan Fraser
Fraser was all over the big screen in the late '90s with hits like George of the Jungle and The Mummy and opposite Ian McKellen in the critically acclaimed Gods and Monsters. Despite his notoriety, Fraser had been out of the limelight for many years until he was cast in the (recently cancelled) TV series Doom Patrol.
Fraser's injuries from his previous movies were one major symptom of his absence, while a sexual assault allegation was another. Not one made against him, but one made by him. In 2018, Fraser went public with the allegations in an interview with GQ. He described how he was sexually assaulted by Philip Berk, a former president of the HFPA, at a Hollywood Foreign Press Association luncheon in 2003. It took Fraser 15 years to be able to tell his story, and there's speculation that Fraser was blacklisted by some in the entertainment industry because he spoke out. The injuries, assault, his subsequent divorce, and the death of his mother launched Fraser into a depression that led to a pause in his career.
The Whale—which follows him as Charlie, a 600-pound reclusive gay English teacher who's attempting to reconnect with his estranged daughter—was met with a wide range of criticism as well as praise. Some labeled the movie as "fatphobic" and "misery porn," while others found the film incredibly moving, hence the six-minute standing ovation at the Venice Film Festival. Regardless of the divisive critical response, one thing almost everybody agrees on is that Brendan Fraser was absolutely phenomenal in the role. For some, Fraser and co-star Hong Chau were the most redeeming parts of the entire experience.
To create an accurate depiction of Charlie's character, Fraser spent hours every day being fitted with 300 pounds of prosthetics and working with a dance instructor to learn how to move with excess weight. Even if Fraser doesn't win the Oscar for Actor in a Leading Role (although many predict he will), there's a good chance The Whale wins for Makeup and Hairstyling as well.
Interested in watching The Whale? Add it to your watchlist here!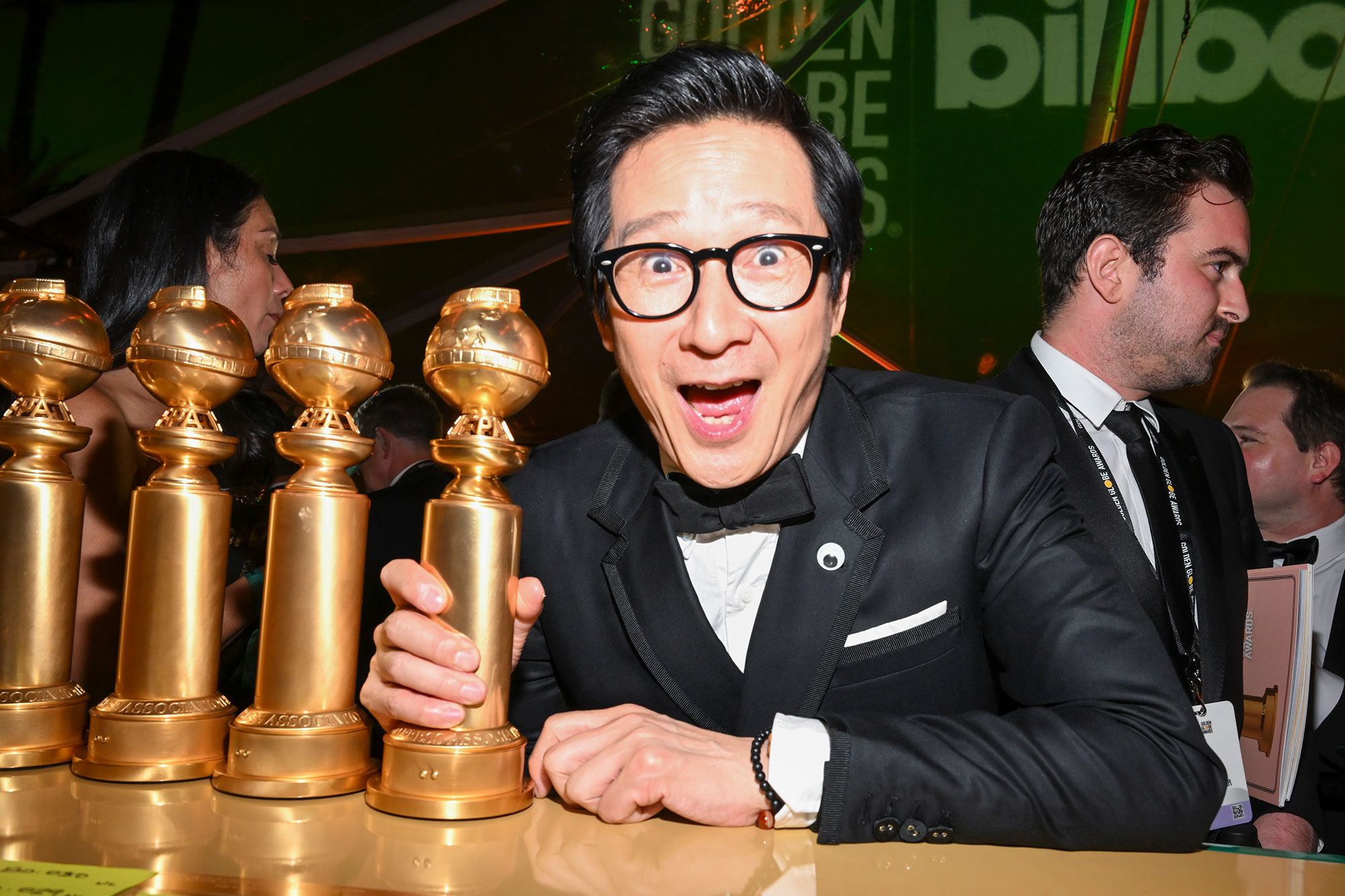 Ke Huy Quan: Never Give up on Your Dreams
Ke Huy Quan's inspiring story is 39 years in the making. He was 12 years old when he made his film debut in Steven Spielberg's 1984 blockbuster Indiana Jones and the Temple of Doom. The following year, he played the role of Richard "Data" Wang in The Goonies (1985). As he grew up, acting gigs became few and far between, and Asian actors were struggling to find opportunities in Hollywood. As he expressed in The Hollywood Reporter's Actors Roundtable video:
"For the longest time, I loved acting, and I couldn't get a job. Hollywood didn't want me. There were no roles for me, and I spent the majority of my time in my late teens and early 20s just waiting for the phone to ring. And it rarely rang so I had no choice but to step away."
Eventually, Ke had to move on with his life so he went to film school at USC and became content working behind the camera on movie and TV sets. One day, the Daniels (the directing duo who created Everything Everywhere All at Once) were writing the script for the movie and started brainstorming potential actors to portray Evelyn's husband, Waymond. The stars aligned that day because they thought of Ke, who happened to be the perfect age for the role. When Ke finally got the call that he secured the role, it was his first opportunity in an American film since Encino Man in 1992!
Who doesn't love a comeback story? I hope Ke Huy Quan wins Best Supporting Actor for two reasons. For one, if you've seen the movie, you know he absolutely deserves it. And two, there's a high probability his acceptance speech will lead to happy tears and motivation for millions of dreamers around the world.
Now that you're caught up with the buzzy storylines, you'll be tapped into all the drama that goes down at the Oscars on Saturday, March 12th. Check out this article to learn how you can stream the 2023 Oscars.
Likewise's Official Oscars Predictions
Since it's nearly impossible to watch every movie nominated for an Oscar, it's incredibly difficult to make informed predictions. That's why we had our resident movie expert, John Farrar, watch (nearly) every nominee and take a stab at predicting which film will win each category. Will his predictions be accurate? Probably not. Is it fun to make a ballot anyway? Absolutely. (And if you haven't watched all of the Best Picture nominees yet, check out this ranking of the 10 movies to determine which you should definitely not miss.)
Download this free 2023 Oscars ballot if you want to make your own predictions with friends or family.
Note: The predicted winner is in bold and listed at the top of each category.
BEST PICTURE
BEST DIRECTOR
Steven Spielberg (The Fabelmans) - WINNER
Martin McDonagh (The Banshees of Inisherin)
Daniel Kwan and Daniel Scheinert (Everything Everywhere All at Once)
Todd Field (TÁR)
Ruben Östlund (Triangle of Sadness)
ACTOR IN A LEADING ROLE
Brendan Fraser (The Whale) - WINNER
Austin Butler (Elvis)
Colin Farrell (The Banshees of Inisherin)
Paul Mescal (Aftersun)
Bill Nighy (Living)
ACTRESS IN A LEADING ROLE
Michelle Yeoh (Everything Everywhere All at Once) - WINNER
Cate Blanchett (TÁR)
Ana De Armas (Blonde)
Andrea Riseborough (To Leslie)
Michelle Williams (The Fabelmans)
ACTOR IN A SUPPORTING ROLE
Ke Huy Quan (Everything Everywhere All at Once) - WINNER
Brendan Gleeson (The Banshees of Inisherin)
Brian Tyree Henry (Causeway)
Judd Hirsch (The Fabelmans)
Barry Keoghan (The Banshees of Inisherin)
ACTRESS IN A SUPPORTING ROLE
Angela Bassett (Black Panther: Wakanda Forever) - WINNER
Hong Chau (The Whale)
Kerry Condon (The Banshees of Inisherin)
Jamie Lee Curtis (Everything Everywhere All at Once)
Stephanie Hsu (Everything Everywhere All at Once)
BEST ANIMATED FEATURE FILM
BEST CINEMATOGRAPHY
COSTUME DESIGN
Elvis (Catherine Martin) - WINNER
Babylon (Mary Zophres)
Black Panther: Wakanda Forever (Ruth Carter)
Everything Everywhere All at Once (Shirley Kurata)
Mrs. Harris Goes To Paris (Jenny Beavan)
DOCUMENTARY FEATURE FILM
DOCUMENTARY SHORT FILM
FILM EDITING
Top Gun: Maverick (Eddie Hamilton) - WINNER
The Banshees of Inisherin (Mikkel E.G. Nielsen)
Elvis (Matt Villa and Jonathan Redmond)
Everything Everywhere All at Once (Paul Rogers)
TÁR (Monika Willi)
BEST INTERNATIONAL FEATURE FILM
MAKEUP AND HAIRSTYLING
The Batman (Naomi Donne, Mike Marino, and Mike Fontaine) - WINNER
All Quiet on the Western Front (Heike Merker and Linda Eisenhamerová)
Black Panther: Wakanda Forever (Camille Friend and Joel Harlow)
Elvis (Mark Coulier, Jason Baird, and Aldo Signoretti)
The Whale (Adrien Morot, Judy Chin, and Anne Marie Bradley)
MUSIC (ORIGINAL SCORE)
Babylon (Justin Hurwitz) - WINNER
All Quiet on the Western Front (Volker Bertelmann)
The Banshees Of Inisherin (Carter Burwell)
Everything Everywhere All At Once (Son Lux)
The Fabelmans (John Williams)
MUSIC (ORIGINAL SONG)
PRODUCTION DESIGN
Avatar: The Way of Water (Dylan Cole and Ben Procter; set decoration by Vanessa Cole) - WINNER
All Quiet on the Western Front (Christian M. Goldbeck; set decoration by Ernestine Hipper)
Babylon (Florencia Martin; set decoration by Anthony Carlino)
Elvis (Catherine Martin and Karen Murphy; set decoration by Bev Dunn)
The Fabelmans (Rick Carter; set decoration by Karen O'hara)
SHORT FILM (ANIMATED)
SHORT FILM (LIVE-ACTION)
BEST SOUND
All Quiet on the Western Front (Viktor Prášil, Frank Kruse, Markus Stemler, Lars Ginzel, and Stefan Korte) - WINNER
Avatar: The Way of Water (Julian Howarth, Gwendolyn Yates Whittle, Dick Bernstein, Christopher Boyes, Gary Summers, and Michael Hedges)
The Batman (Stuart Wilson, William Files, Douglas Murray, and Andy Nelson)
Elvis (David Lee, Wayne Pashley, Andy Nelson, and Michael Keller)
Top Gun: Maverick (Mark Weingarten, James H. Mather, Al Nelson, Chris Burdon, and Mark Taylor)
VISUAL EFFECTS
Avatar: The Way of Water (Joe Letteri, Richard Baneham, Eric Saindon, and Daniel Barrett) - WINNER
All Quiet on the Western Front (Frank Petzold, Viktor Müller, Markus Frank, and Kamil Jafar)
The Batman (Dan Lemmon, Russell Earl, Anders Langlands, and Dominic Tuohy)
Black Panther: Wakanda Forever (Geoffrey Baumann, Craig Hammack, R. Christopher White, and Dan Sudick)
Top Gun: Maverick (Ryan Tudhope, Seth Hill, Bryan Litson, and Scott R. Fisher)
WRITING (ADAPTED SCREENPLAY)
Women Talking (Sarah Polley) - WINNER
All Quiet on the Western Front (Edward Berger, Lesley Paterson, and Ian Stokell)
Glass Onion: A Knives Out Mystery (Rian Johnson)
Living (Kazuo Ishiguro)
Top Gun: Maverick (Ehren Kruger, Eric Warren Singer, and Christopher Mcquarrie; story by Peter Craig and Justin Marks)
WRITING (ORIGINAL SCREENPLAY)
The Banshees Of Inisherin (Martin Mcdonagh) - WINNER
Everything Everywhere All At Once (Daniel Kwan and Daniel Scheinert)
The Fabelmans (Steven Spielberg and Tony Kushner)
TÁR (Todd Field)
Triangle of Sadness (Ruben Östlund)