On March 25, 2022, an unsuspecting film took the world by storm and quickly skyrocketed to all the top charts, considered by some to be "the movie of the decade." With a 95% on Rotten Tomatoes and quickly becoming A24's highest-grossing film of all time, it's clear that Everything Everywhere All at Once was a smashing success for fans and critics alike.
The film focuses on an aging Chinese immigrant, Evelyn Wang (Michelle Yeoh) who is swept up in an insane adventure, where she alone can save what's important to her by connecting with the lives she could have led in other universes. A24, the company distributing the film, describes it as a "hilarious and big-hearted sci-fi action adventure about an exhausted Chinese American woman who can't seem to finish her taxes."
The movie is, on one level, about interdimensional travel and our existential fright of a multiverse, but on a different level, about a mother's strained relationship with her daughter and the challenges that come with generational differences. The film had a long theatrical run followed by a digital release on June 7. For the last five months, the movie has only been available to rent. But the wait is finally over and it is now available to stream!
So when and where can you stream Everything Everywhere All at Once?
Where can you stream Everything Everywhere All at Once?
Everything Everywhere All at Once is coming to Showtime on Wednesday, November 23.
If you want access to watch Everything Everywhere All at Once, you need to subscribe to Showtime Now or try the 7-day free trial.
Showtime Now costs $10.99/month. Or, try out a free trial of the premium service today for access to 30 days of no-cost streaming for all the best movies, TV shows, and Showtime originals!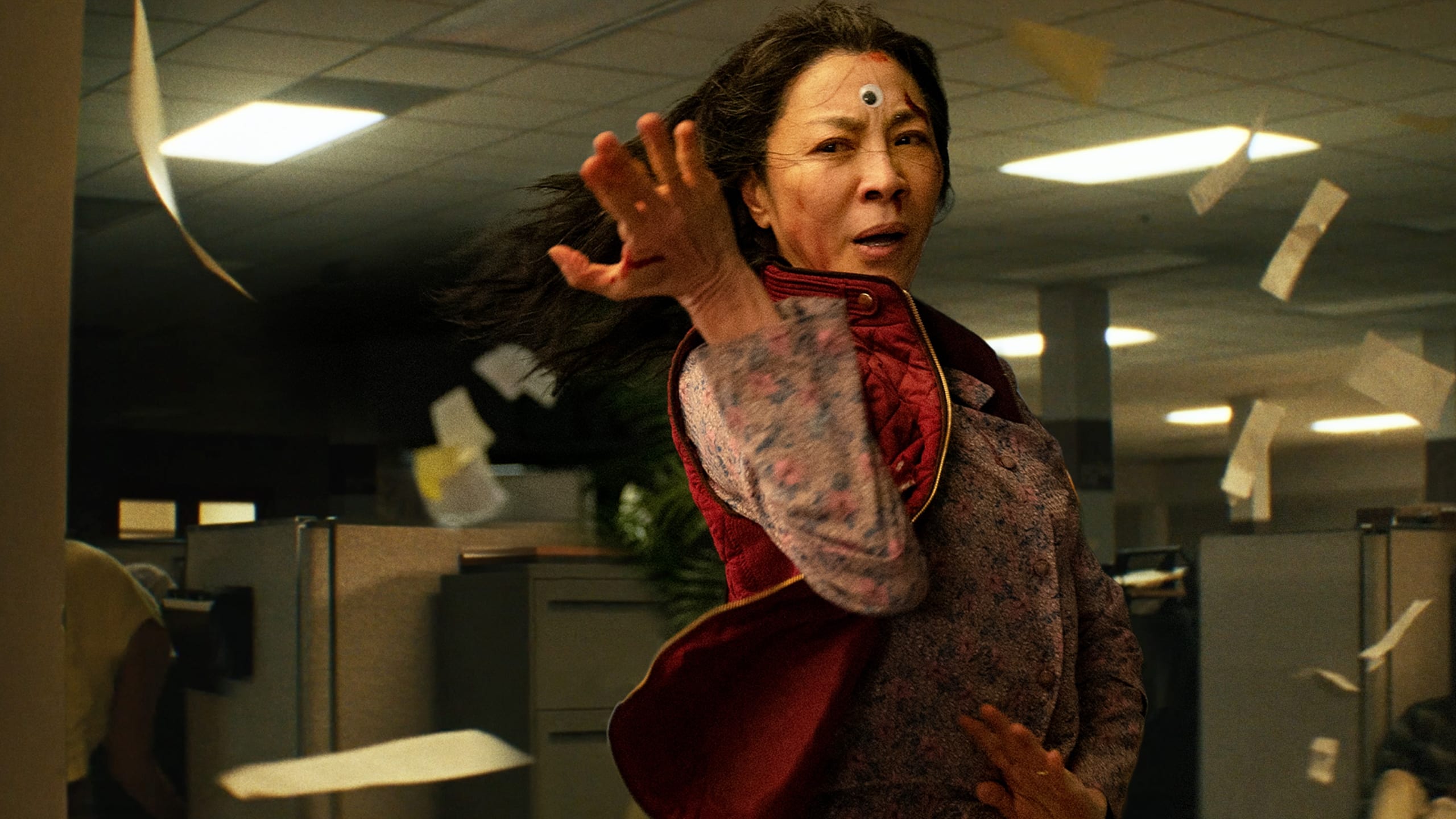 Does Everything Everywhere All at Once live up to the hype?
Whenever a new blockbuster spreads like wildfire on social media, some people get worried. After hearing nothing but rave reviews, people worry that the movie will be a disappointment that doesn't live up to the astronomical hype.
Let's see what fans and critics thought of the movie before giving our take.
Likewise users:
Critics:
Clarisse Loughrey (Independent UK) - "Rich performances collide with big ideas, wrapped in a nuanced understanding of how we treat each other. And there are butt jokes. So many wonderful, dumb butt jokes. What more could you ask for?"
Peter Travers (ABC News) - "The Daniels and their wow of a star Michelle Yeoh turn this visionary absurdist comedy into a volcano of creative ideas in full eruption. It's like nothing you've ever seen."
Adam Nayman (The Ringer) - "The Daniels' Everything Everywhere All at Once is a deliriously over-the-top, multiverse-hopping action movie that unrepentantly pushes itself to the limit."
Spoiler-free review:
Everything Everywhere All at Once is one of the most incredible films I've ever had the pleasure of watching on the big screen. Never in my life have I been in a theater filled with more consistent laughs, tears, and gasps. This monumental piece of filmmaking captures the viewer with its frantic energy and charm but keeps us engaged with a genuine, innovative exploration of how to love, why we're here, and everything in between. The film feels like a chromatic stroll (and sometimes a sprint) through heaven and hell that will be remembered as The Daniels' magnum opus.
While I can certainly understand how this interdimensional, time travel-esque story will be too chaotic and exhausting for some viewers to enjoy, it worked incredibly well for me. The overwhelming nature of the different universes throughout the movie directly parallels the existential ideas this film is exploring. There are many inherent anxieties that come along with life in modernity, deeply intertwined with the internet. We have access to all of the world's knowledge and problems at our fingertips. We're flooded with so much information that we can't possibly process all of it.
When the credits rolled, I felt like I had just gone on a spiritual crusade. My third eye had been opened. I'm joking, but only partly. When I got out of the theater, the first thing I said to my friend was "This is what cinema is all about. Pure, unfiltered, artistic expression." If that sounds interesting to you, check out Everything Everywhere All at Once on Showtime.
For more recommendations, check out our list 15 Mind-Bending Movies About Shifting Realities.